en
Zidane's moving surprise visit to the Vélodrome stadium for a good cause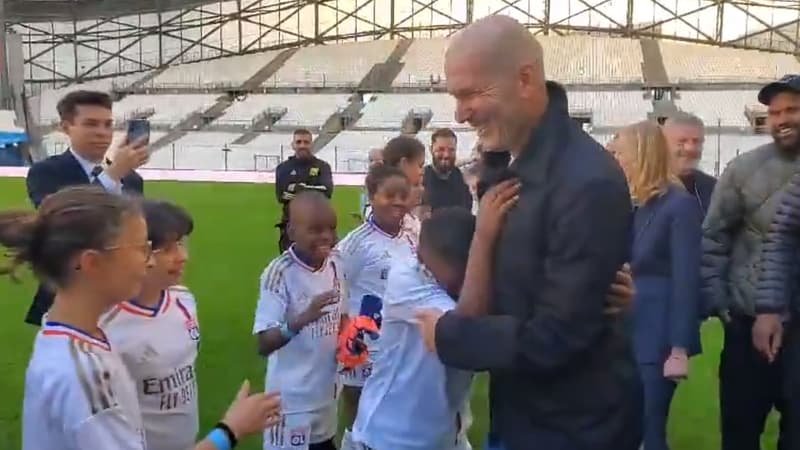 As part of International Children's Rights Day, the third edition of the Child Defenders Tournament took place on Sunday at the Vélodrome stadium in Marseille. For the event, more than two hundred kids were treated to a magical surprise: a visit from Zinédine Zidane.
If destiny has not (yet) professionally united Olympique de Marseille and Zinédine Zidane, the Marseillais, legend of the Blues, is always welcome at the Vélodrome stadium. The proof on Sunday during the Child Defenders Tournament. At the initiative of Mohamed Bouhafsi, a former RMC Sport journalist who was a victim of violence by his father when he was a child, 216 young people from Child Welfare gathered for a big football celebration.
>> The Action Enfance foundation
Zidane: "You children are the most precious thing for parents"
After being able to visit the training centers of the 18 clubs of Ligue 1 to meet the players, train and obtain their equipment over the last two weeks, they were divided into 18 teams representing the 18 elite teams. Then they participated in a friendly tournament won, for the record, by Strasbourg, winner of OL 1-0 in the final (OM finished 3rd).
But what they should especially remember from this dream Sunday is the surprise visit of Zinedine Zidane. Acclaimed by the spectators when he entered the pitch of the Vélodrome stadium, the 98 Ballon d'or, relaxed and all smiles, wanted to provide his support to all these children in difficulty. "You children, you are the most precious thing for parents, I am here for you, I am delighted to be there," said Zizou, quoted by France 3. Generous and available, he multiplied the hugs and said he was "very moved" to be present among all these children. He was not the only one.
As a reminder: the call number 119 – Allô Enfance en danger, confidential and free call 24/7 – number to call when you are a victim or witness of a child in danger situation. Making this number known is essential to helping children and may simply save their lives.