en
with their 14-0, the Blues broke a record in Europe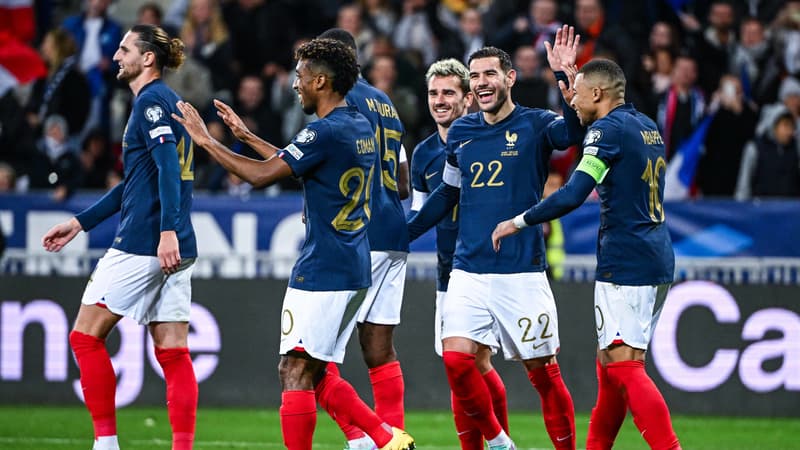 By winning the biggest victory in its history on Saturday against Gibraltar, France became the first European team in history to score 14 goals in a qualifying match for a major competition.
The festival started in the 3rd minute with a csc from the man named Ethan Santos. And it ended at the end of added time with a returned scissors from Olivier Giroud. Already qualified for the next Euro, the Blues put on a show on Saturday in front of the crowd at the Allianz Riviera in Nice, scoring a 14-0 victory over a Gibraltar team that was completely overwhelmed and reduced to ten at the end of the first quarter. hour.
Australia did even better in 2001
While they had performed the minimum service on the first leg, with a 3-0 victory in June, the men of Didier Deschamps this time played the game to the fullest. They took the opportunity to achieve the greatest success in their history, thus erasing from the shelves the 10-0 inflicted on Azerbaijan in 1995 in Auxerre. As noted by Opta, France also became the first European nation to score 14 goals in a qualifying match for a major competition (Euro and World Cup).
>> Euro 2024 (qualifying): relive the historic success of the Blues against Gibraltar (14-0)
For comparison, the Germany of Miroslav Klose and Bastian Schweinsteiger won 13-0 against San Marino in 2006, during qualifying for Euro 2008.
"The players questioned me at half-time to find out what the record was. They did what was necessary. We must not trivialize even if we were facing a team which was weaker and reduced to ten. We did everything to make the score important. This is the ambition of this team, beyond ensuring we are seeded at the Euro. There are always higher demands and that "It's good that the players take on these challenges almost every time," Deschamps said at a press conference.
In the history of football, the biggest victory in an international match is to the credit of Australia, which crushed American Samoa on the incredible score of 31-0on April 11, 2001, as part of the qualifiers for the 2002 World Cup. A certain Archie Thompson alone had scored… 13 goals.