en
why Haaland's Norway is already eliminated despite the play-off places still at stake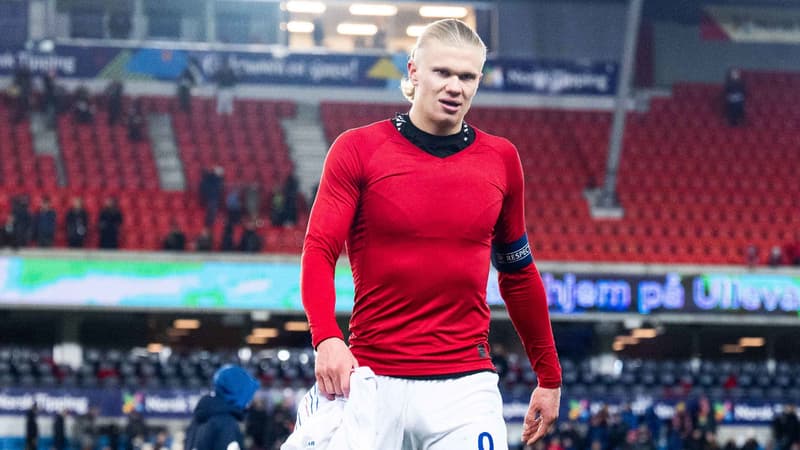 Third in its group before playing its last qualifying match this Sunday evening in Scotland, Erling Haaland's Norway is now sure of missing the final phase of Euro 2024 in Germany. The result of a disappointing campaign but also of complex regulations.
Erling Haaland deprived of Euro 2024. His country, Norway, can no longer hope to play in the final phase of the European Championship in Germany, even through the play-offs, according to UEFA regulations. Third in qualifying group A behind Spain and Scotland, who have validated their ticket for the tournament (June 14-July 14), the Norwegian selection is also out of the race through the play-offs, reserved for the highest ranked teams of the last Nations League (2022-2023). This path will deliver the last three seeds for the Euro via a sort of "final four" for each of the three Leagues (A, B and C) on the "semi-finals, final" model.
The Norway plays in League B. In this League, Israel and Bosnia-Herzegovina, not qualified via the qualifiers, are ahead of Norway in terms of accounting. Ditto for Serbia which can still win its ticket directly if it avoids defeat against Bulgaria or if Montenegro does not beat Hungary. There are one or two places left to take…
Penalized on an accounting level because of… Russia
Fourth in the general ranking of this League B, Scotland already has its ticket in its pocket for the Euro. The two other seats for the repechage will therefore be contested between Serbia (if it misses the mark in qualifying), Finland, Ukraine (which can also still qualify directly if it beats Italy on Monday) and Iceland.
Penalized by the withdrawal of its points obtained against the bottom of its group in the League of Nations (for the sake of fairness with the Russian pool, whose points were not taken into account), Norway moved from 'a total of 10 to 4 units. This is also why it only appears in 8th place in the overall ranking of League B of the League of Nations and why it is ahead of too many nations to be able to claim to compete in the play-offs. Norway has not played in an international competition since Euro 2000.