en
the cruel video of Mancunian supporters, critical of Amrabat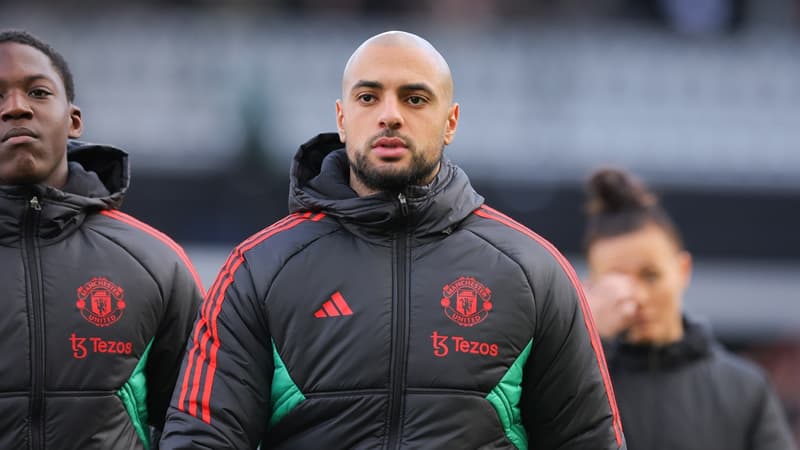 Moroccan Sofyan Amrabat is looking for his best sensations since arriving at Manchester United. Mancunian supporters are getting impatient, and do not believe he is capable of succeeding at Old Trafford.
Moroccan midfielder Sofyan Amrabat started November the way he ended the previous one with Manchester United: on the bench. Loaned by Fiorentina, the 27-year-old defensive midfielder, pillar of the Moroccan midfield during the last World Cup, does not meet the expectations that the news of his transfer had aroused in the ranks of Mancunian supporters.
"The man who silenced Mbappé": it is on the basis of a catchy slogan that Red Devils supporters have dubbed this choice of their coach, Erik ten Hag. Sofyan Amrabat was coming off an accomplished season with Fiorentina, finalist of the Europa Conference League, and Morocco, whom he helped reach the semi-finals of the World Cup.
Two months later, Mancunian fans are more than disappointed to note the Dutch technician's difficulties in integrating his player into his system.
On Twitter, a number of them believe that Manchester United bought the midfielder based solely on his tackle on Mbappé at the World Cup. Which, obviously, does not hold, and would be incredibly reductive as the player had a resounding impact on Morocco's performances at the World Cup.
We will have seen him crisscross the pitch to harass his opponent, recover the ball and launch dazzling counter-attacks, throughout the competition. However, Mancunian supporters prefer to dwell on this famous semi-final by compiling the many moments where Kylian Mbappé got the better of Sofyan Amrabat.
Established in an unusual left-back position during his first start of the season in the Premier League (an experience which will be repeated three days later, still against the Eagles, in the League Cup), Amrabat did not convince either. midfield, where he disappointed more than he impressed, notably against Manchester City (0-3).
Warned before the break against the Citizens, Amrabat was replaced at half-time and has not played in the Premier League since, remaining on the bench during the victories against Fulham (1-0) and promoted Luton (1-0). ). Against Copenhagen (3-4), in the Champions League, and a week earlier against Newcastle (0-3), in the League Cup, the Moroccan midfielder each time entered the field at the break, with the same result at the final whistle: a defeat.