en
summoned for the first time by Bielsa, Suarez will face the Argentina of his friend Messi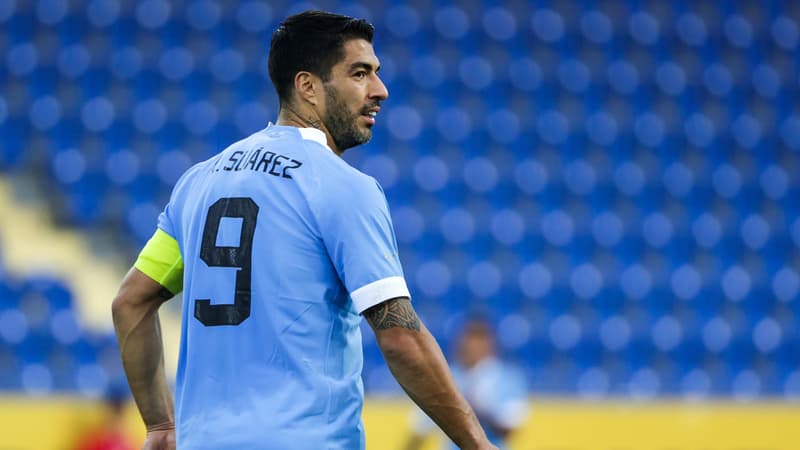 Marcelo Bielsa has called up Luis Suarez for Uruguay's upcoming matches. The 36-year-old striker, back in the selection, will take the opportunity to challenge Lionel Messi's Argentina, with whom he has been close since their joint adventure at Barça and whom he could soon join in Miami.
Reunion with friends. Luis Suarez was called up this Monday for the first time by the new Uruguay coach, Marcelo Bielsa. He will find Lionel Messi, 36 years old like him, called by Lionel Scaloni with Argentina for the clash of the South American qualifiers for the 2026 World Cup (during the night from Thursday to Friday). The top scorer in the history of Celeste (68 goals), who shines with Gremio Porto Alegre (in Brazil), was called up by his Argentinian coach, who like Messi comes from the city of Rosario.
Marcelo Bielsawho took the reins of Uruguay last May, had not summoned "El Pistolero" during the first four qualifying matches for the World Cup in the United States, Canada and Mexico at the end of a poor 2022 World Cup for Uruguay, eliminated in the group stage in Qatar.
Suarez and Messi soon reunited in Miami?
The other "history" of the Uruguayan attack, Edinson Cavani (36 years old, second top scorer with 58 goals), who now plays for Boca Juniors in Argentina but was injured this weekend, has on the other hand still not not been called back to reform his old duo with Suarez. Lionel Messi, who now plays at Inter Miami (United States), continues his selections with the world champions. He scored twice in the last match against Peru (2-0). He returned to the starting lineup after entering the second half in the previous match against Paraguay (1-0).
Argentina has so far performed flawlessly in these qualifications, with four victories in as many matches. The Albiceleste are five steps ahead of a trio of Venezuela, Brazil and Uruguay. Messi and Suarez have always displayed their deep friendship, born from their years in Barcelona, ​​where they formed the legendary MSN, alongside Neymar from 2014 to 2017. Suarez could join Messi in Miami early next year in Major League Soccer , after the end of his contract at Gremio.