en
Lyon set Wednesday for sanctions against the parking of supporters at the Vélodrome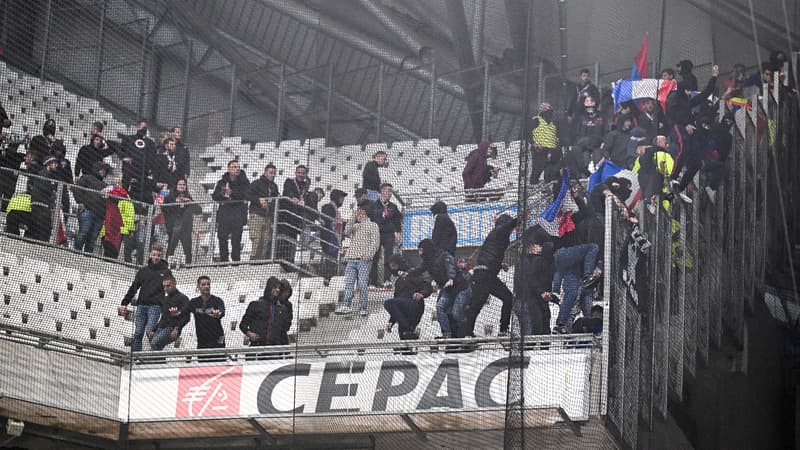 Almost a month after the incidents during the Olympico between Marseille and Lyon on October 29 at the Vélodrome, the LFP disciplinary committee will meet this Wednesday to rule on the behavior of Lyon supporters in the visitor park.
This Wednesday, the LFP disciplinary committee will meet once again to rule on a specific element of the OM-OL match, the behavior of the Lyon parking lot on the evening of this meeting, which never took place on October 29. .
In images published on social networks, we could see some OL supporters make openly racist gestures in front of OM fans like Nazi salutes and monkey expressions. Very quickly, OL said they wanted to "identify the individuals".
>> All the news from Ligue 1 live
The League still hopes for individual identifications
This Wednesday, after twenty days, the League instructor will submit his report from 6 p.m., and it is following this report that OL should know their fate. Sanctions should fall. They could range from a closure of the Lyon park for several matches or even a partial or total closed session of the Lyon enclosure. In this complicated matter, the League is still hoping for individual identifications of the authors.
Despite the Lyon clan's incomprehension about replaying the match at the Vélodrome after the incidents in which Fabio Grosso and his deputy Raffaele Longo were injured, the clash is planned for December 6 with the public. A decision which surprised former president Jean-Michel Aulas.
"Personally, I did not imagine that the match could take place again in Marseille," JMA explained to Clairefontaine last week. "There is an appeal (from OL to the FFF, Editor's note), we'll see what happens. Once again, I speak in a personal capacity and not as a former president of the club. I no longer have any responsibilities in the club, other than being a spectator and a passionate supporter."
AS, with Nicolas Pelletier