en
how Moldova, 157th Fifa nation, can qualify this Monday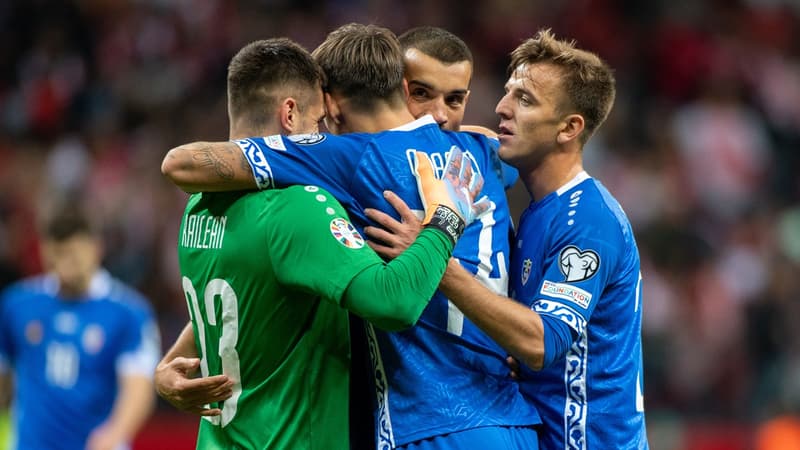 Moldova must achieve a feat and win in the Czech Republic to qualify for Euro 2024, a hope that the 157th nation in the Fifa ranking has never before cherished so closely.
The beautiful strike from Moldovan Vladyslav Baboglo against Albania apparently changed nothing in the fate of the Tricolorii, the draw (1-1) snatched at the very end of regulation time (87th) having allowed the Eagles to qualify Nevertheless. And yet, in the event of a victory against the Czech Republic this Monday in Olomouc, there is no doubt that this goal will be celebrated as one of the most important in the history of Moldovan football.
Because it will have made it possible, whatever may happen this evening, to maintain the hope of a historic qualification. This would be a considerable feat. Because with the exception of the Euro 2008 qualifiers, Moldova have finished last or penultimate in their group in all the qualifying campaigns they have participated in so far, since the Euro 96 qualifiers. .
Meeting in unknown land
157th nation in the Fifa ranking (behind Yemen) and fourth in Group E of these Euro 2024 qualifiers, the Moldova can qualify for his very first major tournament, but to do so he will have to win against the Czech Republic, which saw three of its players excluded from the selection. The Czechs wasted a great opportunity to qualify on the previous day, by failing to win in Poland (1-1), but they remain in a favorable position to the extent that they will only need to not lose at home to clinch the second ticket. Faced with a team which has only two victories since the start of this campaign and does not score more than one goal on average per match, qualification is more than possible for Narodni tym. In the first leg, in Moldova, the two teams separated in a draw (0-0).
The Czech Republic will nevertheless have to be wary of a team which has lost little (only one defeat, 2-0 in Albania) and which was able to create a resounding feat during the 4th day of the qualifiers last summer, against Poland . Trailing 2-0 by the White Eagles of Robert Lewandowski and Arkadiusz Milik at the break, Moldova came back to the level at the end of the match, before dealing the blow at the edge of added time, once again thanks to Vladyslav Baboglo , the hero of great evenings. But the Czech Republic has not lost at home for fifteen matches, and has never missed a European campaign since its independence in 1993. Certainly, Moldova has its destiny in hand, but unlike the Czech Republic which is advancing in familiar territory, she is heading towards lands that she has never explored before.