en
Deschamps' caution on Luis Enrique's criticism of Mbappé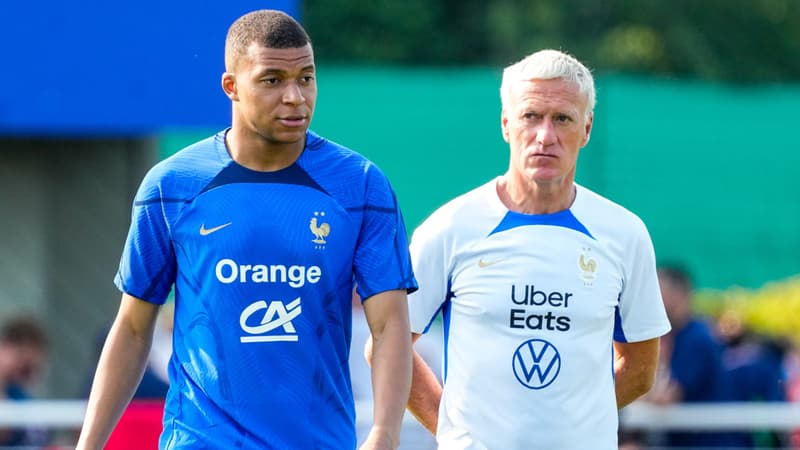 Yet author of a hat-trick on Saturday against Reims in Ligue 1 (3-0), Kylian Mbappé was reframed by Luis Enrique, his coach. Present at a press conference this Monday, Didier Deschamps was questioned about the exit of his Parisian counterpart. And the Blues coach responded with great caution.
PSG news comes into play at the start of the international break. Two days after Luis Enrique's criticism of Kylian Mbappé, the Spanish technician having confided that he was "not really happy" with his attacker's performance despite the hat-trick scored by the latter, Didier Deschamps was questioned this Monday about the highly commented release of its Parisian counterpart.
"I'm not here to tease anyone"
"The hot potato…", the Blues coach first smiled at a press conference, five days before Gibraltar hosts Nice as part of qualifying for Euro 2024 (Saturday at 8:45 p.m.). "It's not that I don't want to answer, but I'm not going to go into data that I don't have. That's up to Kylian and his trainer. If I tell you 'I don't do it like that' , in two minutes you will say 'Deschamps turns on Enrique'.. I am not here to turn on anyone. He said what he had to say. We must ask the questions of the two concerned."
>> Relive Didier Deschamps' press conference
As explained by RMC Sport, the capital club clarified after this match that the Spanish coach's words were to be taken in a tone of humor. Behind the scenes, it is also indicated that the speech of Luis Enrique was intended to "sting" Kylian Mbappéin order to encourage him to continue like this and surpass himself.
"I don't know what he asks of him in each match, in different positions and systems," continued Didier Deschamps facing the media this Monday. In management and communication, I am not saying that what Luis Enrique did is not good. I may do it differently, others may do it differently. It can happen, but it's not just Kylian, it happens to all attackers. Do they prefer to have a good match and not score? I'm not sure… The ideal is to do both, but with frequencies of three to four matches per week, it's difficult. Above all, we ask an attacker to be decisive, whether in goals or in passes. And if there is one who is very efficient at that, it's still Kylian."
F.Ga, with Jean Rességuié, Fabrice Hawkins and Arthur Perrot