en
Belgium, Euro 2024, Leipzig, Lens… the full interview with Openda on RMC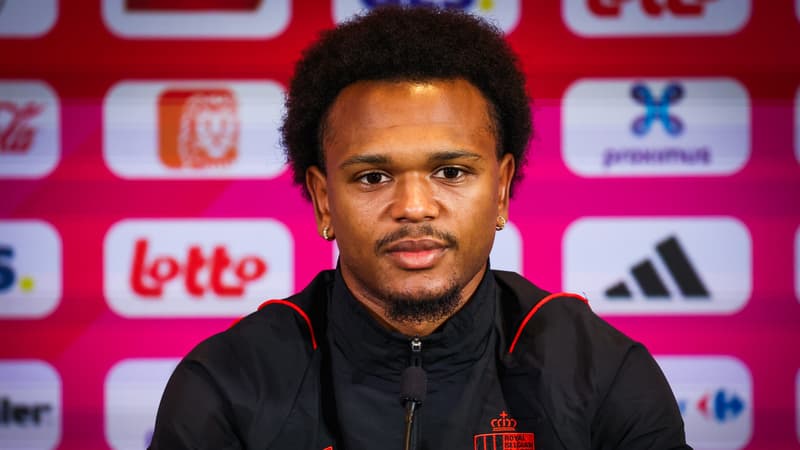 Invited this Sunday to the Complete Football special Euro 2024 on RMC, Loïs Openda spoke about his ambitions with Belgium, the upcoming Euro and his start to the season at RB Leipzig. The young striker (23 years old) from the Red Devils also looked back on his time in Lens.
Belgium has already qualified for Euro 2024. Is the goal first place in the group? And how are you ?
"Everything is going well for me. We are qualified and now we have this match to play against Azerbaijan. It is very important for us, we want to be first in the ranking to potentially be seeded."
You are undefeated since the appointment of Domenico Tedesco in February. Do you have a lot of confidence?
There is a lot of trust. It's a work that we build with the old and new generations. Obviously, everyone is focused. We know that the Euro will be very important for us.
There are a lot of young players in the Belgian squad. Do you have a lot of weapons despite the departures of several stars?
Of course, we were affected by the retirement of Eden Hazard. We are focused on the future to do the same thing as Eden. Thibaut (Courtois) and Kevin (De Bruyne) are injured, but they will soon recover to be at our side. We have new strengths, there is a new generation that we are discovering. It's a good mix with the older generation.
Was the elimination from the group stage of the 2022 World Cup a slap in the face?
Nobody here liked it. We had the core to have a great World Cup. It didn't go the way we wanted. We have to pull ourselves together to look straight and show another face at the Euro. We will want to do our best.
Will Belgium be one of the favorites for the Euro?
Necessarily. We are a great nation, we are Belgium, there is what we have shown in recent years. We were first in the rankings (Fifa) for a long time, we deserved it. We can be one of the favorite teams, there will be several. Belgium can do something good in this Euro.
You've had a great start to the season in Leipzig with nine goals already scored in the Bundesliga. How do you feel ?
For the moment I feel very good, I score, we put in good performances. Everything is beautiful, I hope it continues. I don't forget my time at Lens, we had a very good year last season with qualification for the Champions League. We all went to look for her together. I'm happy to have been able to play in Lens. Now I think about the future. I'm in Leipzig, and I really like it there.
You have not yet scored for the selection since the appointment of Domenico Tedesco. Is this a problem?
Nothing bad is happening in my head. It happens you know. I've already had periods where I didn't score. Here, in the selection, there is Romelu (Lukaku), I am behind. I don't forget Michy (Batshuayi) either. My time will come. I trust. I work in club and selection. I don't put pressure on myself. I think about helping the team so that we win matches. The goals will come.
Could you be associated with Lukaku?
It's the coach who decides. I've already played with Romelu, I think our profiles can be combined. We have different profiles, it can be a match. It's the coach who will see. I am ready to help the team.
What is your view on the French team?
France is a very, very great nation. It's a favorite team (for the Euro), like England. We know the qualities of the French.
Do you still follow the results of RC Lens?
I still follow RC Lens. I always have the little bell on to receive notifications when I can't watch their matches. We don't play at the same time too much, so I watch their matches a lot. I give them a lot of support and strength to go the furthest in the Champions League and come back to the top in the championship. They haven't had a very easy start to the season, that's football. They came back well. I wish them many good things.
Do you have a message to Lensois supporters?
I see on social networks that the supporters miss me. I know they didn't want me to leave. I left after one season. It's true that some supporters wanted me to stay. But hey, it's football. This is a step I had to take. That's not why I no longer have love for the supporters. I am still in contact with players. I had a year that I will not forget, it will always stay with me.