en
a big check from Fifa for Gavi? How clubs are compensated after injuries in selection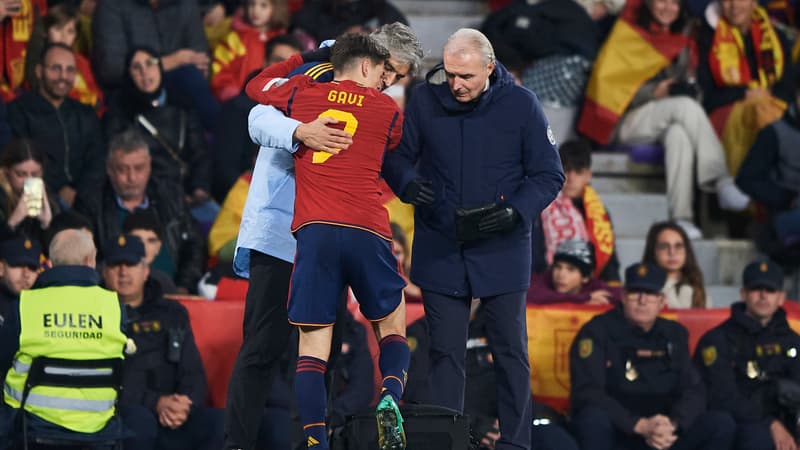 Fifa, through its club protection program, pays compensation for players who, like Gavi, injured with his selection, will be missed by their clubs for a certain time.
Under fire for the infernal pace imposed on players who are often injured due to the tightening of calendars, Fifa has for around ten years been paying compensation to clubs affected by these twists of fate. The international body thus agrees to pay these clubs part of the salaries of the players concerned via its "club protection program".
Through its insurance, la Fifa compensates clubs up to a maximum of 7.5 million euros (when the salary is very high) per player and per injury, over a period which cannot exceed one year. "The ceiling is calculated on the basis of a daily allowance set "pro rata", which is limited to 20,548 euros per day. The fixed salary serving as a basis for the calculation includes "mandatory social charges" but not the variable part included in what is paid by the club to the player (performance bonus, signing bonus, image rights, etc.).
Barca should cash a big check for Gavi
Fifa's assistance is triggered from the moment the injury causes an absence of more than 28 consecutive days (the first 28 days are not taken into account by Fifa). For the Brazilian Neymarwho suffers from a rupture of the anterior cruciate ligaments and the meniscus of the left knee, the Saudi club Al-Hilal can claim the maximum taking into account the duration of the player's presumed absence and his salary, among the highest of the football planet.
For his miracle Gavi, also victim of a complete rupture of the anterior cruciate ligament of the knee, and who should be absent between six and eight months, Barça expects to receive compensation commensurate with the damage suffered. According to the estimates of Sports worldfor an absence of six months, we would be talking about a minimum of 3 million euros which would flow into the coffers of Barça, an amount which could reach 4.3 million euros in the event of a prolonged absence.
Real Madrid, for Eduardo Camavinga, and Paris Saint-Germain for Warren Zaire-Emery, on the sidelines until the end of the year, will also receive compensatory compensation. Note that, while "heart attacks and strokes" give rise to rights, this is not the case for suicide attempts.